Užsakant internetu ne akcijinėms prekėms nuolaida
iki
-15%
Nuolaidą pritaikys užsakymą patvirtinęs administratorius
Lucky John Guminukai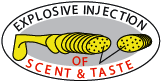 Natūraliais , stabilų kvapą palaikančiais kvapikliais bei skanikliais prisotinti "valgomi" Lucky John guminukai.
Visi Lucky John guminukai prisotinti naturalų skonį ir kvapą palaikančiais kvapikliais : vėžiagyvių , krevečių , skumbrės kvapais , įterptais į pačią gaminio medžiagą . Ši technologija turi pagrindinį pranašumą preiš masalus , turinčius paviršinį kvėpinimą . Scant&Taste Inside Formulė užtikrina , kad 65% atraktanto rastusi guminuko meddžiagos viduje , o 35% - tai skysta substancija , kuria gaminys įmirkomas prieš sufasuojant . Atraktantas Lucky John kompanijos paslaptis , garantuojantis "valgamų guminuku " ypatingai ilgalaikį kvapnumą ir kibumą .
Lucky John masalai gaminti mūsų regionui , todėl siūloma spalvinė gama ir kvapai vilioja vietinių vandens telkinių plėšrūnes .
TIOGA - 2 dydis skirtas specialiai ešeriams , o 2,9 ir 3,9 tinka starkiams , lydekoms . Originalios formos kūnelis , judėdamas vandenyje , ganeruoja plėšrūnes viliojantį dažnį . Šoniniai dryželiai sukuria natūralią žuvytę imituojančius judesius .
Buggy Shad - gan masyvus , skumbrės atraktantu prisotintas " valgomas guminukas" . Naudojant ofsetinį kabliuką , žolinguose vandenyse, masalą galima naudoti ir be papildomo svorio . Tai tikras stambesnių plėšrūnių medžiotojas.
Ballist - slieko ir tvisterio hibridas , prisotintas krevečių atraktantu. Naudojont šį masalą plėšrūnes galima vilioti : lėtu judesiu imituojant slieką ar greitu - sprunkančią žuvytę . Tikrai plataus diapazono masalas . Rišimo sitemos gali būti taip pat įvairios : "paternosteris" , "girlianda", džigas.
Chuk Teil - universaliausias , prisotintas krevečių atraktanto , Lucky John "valgomas guminukas" . Masalas pradeda "dirbti" atlikus ir patį lengviausią pravedimą. Tinka džigavimui , visoms pavadėlinėms sistemoms . Tvisteris vilioja visas be išimties stambiasnes plėšrias žuvis.